Got a Government-sized 1911 chambered in .45 ACP that needs some extra mags? We've certainly got plenty for you to check out. But first, take a look at the mags that came with your gun. Chances are, they've got an 'M' stamped into the baseplate, which means they were manufactured by Metalform.
Does that matter? Well, it might, depending on what you're looking for.
Metalform magazines have been out in the marketplace for a long time, mostly selling to companies like Colt, Kimber, S&W, and Springfield Armory. Those companies then ship out their new guns with Metalform magazines. If those companies trust these mags, it's pretty safe to say that you can too. They earn high praise out in the field, as they're known for exceeding performance expectations.
Just look at what 1911Tuner has to say about them on TheHighroad forum:
"Back in 1999, I ordered a hundred of'em…evenly split between stainless and carbon. All of them are 7 round with the standard flat follower with the speed bump…as per original design.
I kept 72 of the magazines for my own use, plus a couple spares in each version just for a backup…and I've used'em hard. At one time, I carried all of them to the range an average of twice a week…preloaded…and emptied them all. I wasn't gentle with them. I slammed'em home and let'em bounce on the ground when they were jettisoned. I take them apart for thorough cleaning once a year.
Last month, the welds gave up on the floorplate on one magazine. One magazine failed in 11 years. I salvaged the follower and spring.
None of the magazines has failed to lock the slide on empty except in the case of a broken slidestop lug…and that's happened twice in two Colts…once per gun…that have seen hard use since 1991 and 1992 respectively. Not the fault of the magazines.
Would I recommend Metalform 7-round magazines? Absolutely. As far as the one that failed…If I send it back, they'll send me another one…but I probably won't bother to do it."
At GunMag Warehouse, we have a very large selection of Metalform magazines with a wide variety of designs for everything from duty use to concealed carry, competition shooting, and more.
To further distinguish the models we have available, you can choose between flat, round, skirted, or pro followers. Do you want a welded base plate or one that's removable so you can upgrade to your preferences? What are the differences anyway?
Magazine Features, Explained
Just in case you're not sure which follower or base plate to get, here are the details.
What is a flat follower?
The flat followers are the original Colt design followers and provide for that classic 1911 magazine look and function. The material is a high-strength heat-treated stainless 400 series, which provides for long-lasting performance and rigid slide lock action.
How is a round follower different than a flat follower?
The Metalform round follower is an anti-tilt design resulting in fewer potential nose-diving issues while chambering a round.
Additionally, the top of the follower is round, which provides for a radius-to-radius contact of the ammo to the follower mimicking another round below the final one. This provides for smooth chambering of the final round into the barrel.
The average recreational user may not see any significant performance differences but this is the preferred follower for competition shooters of Metalform's .45 and 10mm offerings.
Ok, so what is a skirted follower?
The skirted followers are just another designation for both the round and Pro follower designs. They have the long front round skirt that stays down below the front of the magazine after the last round has been chambered and provides the anti-tilt feature
One more — what is a Pro follower?
The Pro-Follower is a specific flat-front skirted follower used in Metalform's 7-round and 8-round .45 magazines only. This follower is extremely robust and reliable, made from the same high strength heat-treated 400 series stainless material, and will provide for years of reliable performance
What is the difference between a welded base plate and a removable baseplate?
The welded base plates have a flush fit, so they are more easily concealed. Removeable baseplates make it easier to get into your magazine for cleaning, and you also have the opportunity to upgrade the magazine.
Now that those details are cleared up, here are the Metalform magazines that'll fit your Government-sized 1911 chambered in .45 ACP, in 7,8, and 10-round capacities. Choose from black cold-rolled steel or stainless steel.
Which one is right for you?
7-Round Metalform Magazines for Government 1911s in .45 ACP
Like Daniel says, this is an all-around great magazine with nice follower action.
Satisfied customer Ronald H. says, "My opinion, you can't beat Metalform Mags for the money. Reliable .45 1911 magazines."
Metalform Standard 1911 Government, Commander .45 ACP Cold Rolled Steel (Removable Base & Flat Follower) 7-Round Magazine
Often considered a vestigial remnant from back in the cavalry days, some say the lanyard loop is still useful in modern times. With some paracord attached the mag can be easily recovered if it's dropped, especially in water, fine sand, dense brush, and night ops.
This one has a flat follower. There's a bonus use for the lanyard, too. Just watch:
Prefer stainless steel mags? Here you go!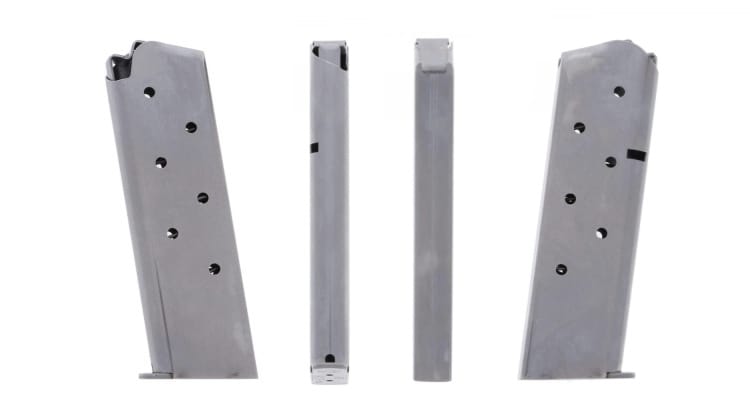 Comment from William S.: "The Metalform 1911 7 shot stainless steel magazine with round follower and removable base plate is the top of the line, in my opinion, that is available."
8-Round Metalform Magazines for Government 1911s in .45 ACP
We have two models of these 8-round mags, black and stainless steel. The polymer magazine baseplate is removable with the little flares to it so you can reach up, grab it, and rip it out of the magazine well for emergency manipulation, clear stoppages, etc. The edges of the follower are rounded just a little bit to give more reliable feeding.
See them up close in this video:
James B. says, "They came quickly and used them This last weekend. Worked totally great. No problems at all."
10-Round Metalform Magazines for 1911's in .45 ACP
Why, yes, we do have an extended magazine for your 1911!