Not all optics are cut out for every application. Some work great for concealed carry, some for range guns, some for duty pistols. In this video, Hilton Yam of 10-8 Performance reviews and ranks his favorite pistol optics for duty use. As a law enforcement veteran and tactical trainer, Yam has seen through pistol optic windows a few times and created a list of his favorite and least favorite red dots.
Like many of us, Yam started out shooting a Trijicon RMR, the first serious pistol-mounted red dot on the market. It more or less defined what red dots would be moving forward. It became so popular that all these years later, the RMR mounting footprint is the most common platform on the market. Almost all red dots offer an RMR-style mounting interface. Starting with that, let's see Yam's list of pistol-mounted red dot optics.
Yam starts with his basic criteria for what makes a good duty pistol optic:
Rugged and reliable
Low profile enough, particularly on the deck, to allow use of commonly available optic-height sights
A common footprint – do you need to modify the slide for an uncommon mounting footprint, or does the optic have cross-compatibility?
Should fit into common duty holsters without modification – some agencies don't allow for modification
Good battery life, typically at least one year as the measurable standard
How easy is the battery to load in? Does it require removing the optic to change or can it be done from the top of side?
Trijicon RMR
Rugged, reliable, low profile enough to use common sights, the Trijicon RMR is the common footprint—the one that started it all. It fits most duty holsters because they are made around the RMR pattern. Battery life is more than one year. One major strike against the RMR is the bottom-loading battery compartment that requires removing the optic for replacement.
Leupold Delta Point Pro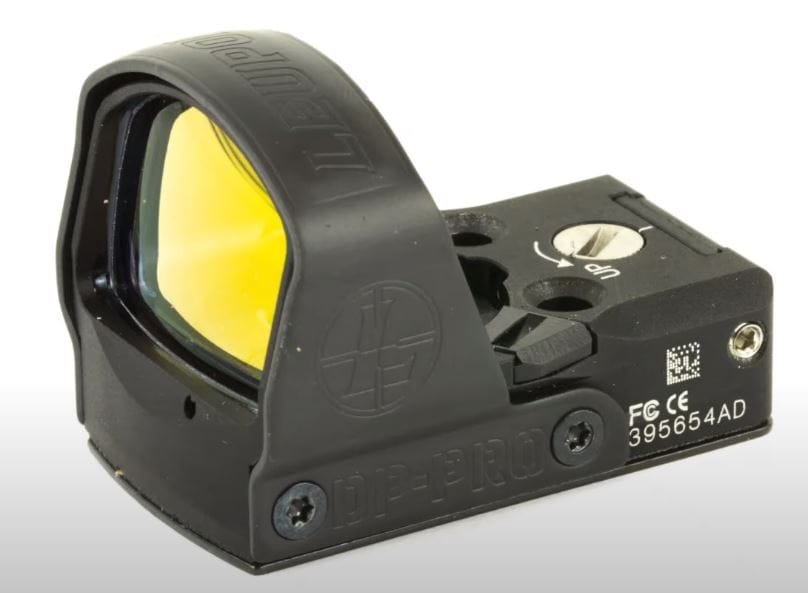 Strike one: It is so tall that it requires unique sights and is incompatible with any of the sights that work with all the rest of the optics on the list. Good position of the battery right on top and easy to replace and service. Strike two: Only one button to toggle all the settings, which can be confusing and easy to get wrong. Ruggedness and reliability are spotty, based on field reports.
Aimpoint ACRO
On full settings, the battery lasts around three weeks on the normal setting, which is way below the year threshold. It also does not fit into the Safariland ALS holster, so that's a deal killer.
Trijicon SRO
Trijicon itself admits the SRO is not meant to be a duty optic because it does not survive the 6-foot drop test, but the oversized window and top-load battery make it appealing.
Holosun Grouping: 507C, 508T, 509T
These check all the boxes with ruggedness, reliability, and great battery life with solar power boost, the common RMR footprint for 507C and 508T, and low profile for common sight compatibility. To offset the questions of reliability, Yam shows us the two he has mounted on his EDC and range guns.
The Envelope, Please…
What were Yam's final results? Which ones did he like the best and least for a duty pistol? Find out here…